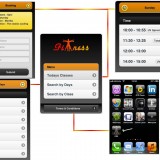 Mobile Web App for booking classes
This is a cross platform mobile web app which works on any Smartphone (Iphone, Android, Windows)
The app allows customers of Gyms and other Health clubs to book their classes in a very simple and intuitive manner.
Below are some screenshots of the Class booking app..
The whole system consists of
– The frontend mobile web app that works from any smartphone &
– a backend web based administration portal for configuring all the information regarding classes.
Any further customisation can be done as per clients requirement. Contact us for further information and arranging a demo.
Screenshots of the App
HTML5 Mobile Web Apps
Cross platform HTML5 web apps that mimic native apps on iOS and Android devices.
Lower development costs and timeframe.
Develop once, deploy anywhere.
No dependence on App Stores and the continuous maintenance and update cycles.
Considerably easier to engage consumers across the exponential number of mobile devices.